---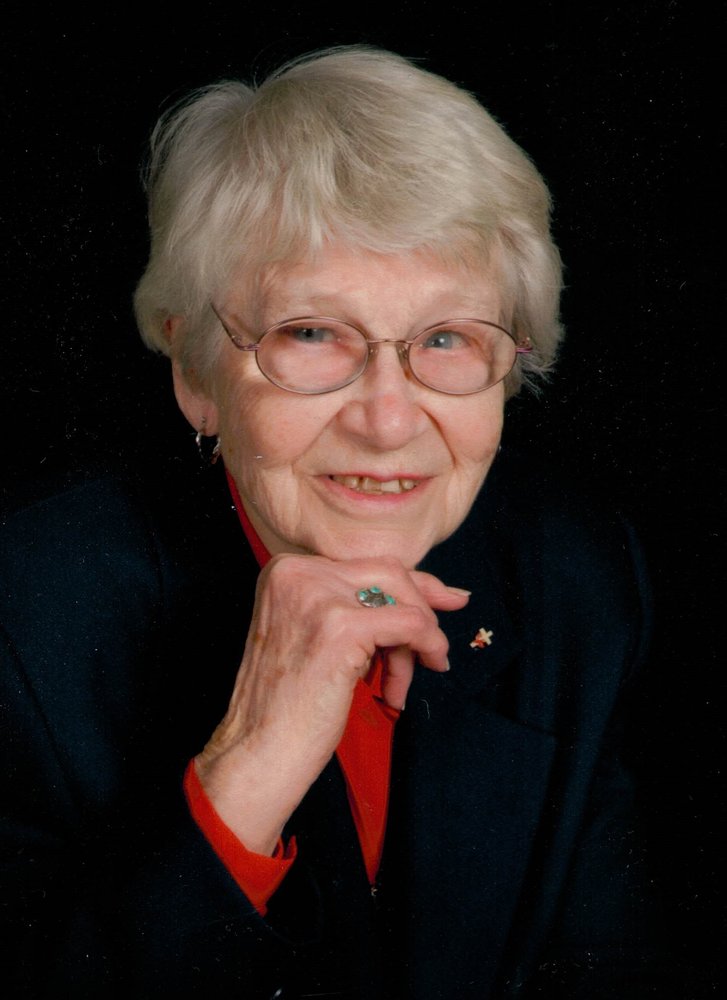 In Memory of
Doris J. Stump
1925 - 2017
Obituary of Doris Stump
Doris Carleen Stump, daughter of Oscar L. and Nannie C. (Patrick) Johnson, was born April 23, 1925 at New Gottland, McPherson County, KS, and passed away on October 27, 2017. She was baptized June 5, 1925 at New Gottland Lutheran Church. She was confirmed on March 19, 1940 at Bethany Lutheran Church. She remembered with fondness the years she taught Sunday School at Bethany Lutheran Church.
She attended New Gottland, District 75, grade school and she graduated from Lindsborg High School in May 1943. She attended Brown Mackie at Salina.
She worked, before she was married, at Ed Honen Construction Company at Camp Phillips, Riverside Super Service in Lindsborg, and NCRA in McPherson.
Doris and Lee K. Stump were married at Bethany Lutheran Church on February 25, 1957. She became the mother of Sandra and Robert. The family lived in McPherson until 1959, when they moved to Wichita. They sold their business in Wichita in 1967 and in 1968 moved to Belleville, KS. IN 1982 they sold their business in Belleville and moved to McPherson. Lee passed away on December 5, 1983. Doris moved back ton Lindsborg in 1989.
Doris was a housewife most of her life, allowing her plenty of time to enjoy her hobbies and other interests. She enjoyed working on the genealogy of both sides of Lee's family (Shore and Stump) and both sides of her family (Johnson and Patrick). She also enjoyed gardening, knitting, sewing, cooking, and baking, and sewing quilts for Lutheran Relief. She loved travelling, beginning in 1972 with a trip to Switzerland to visit Sandra, her husband, and granddaughter Elizabeth. She visited many countries, including Sweden several times, and she visited may states in the U.S. One of her favorite trips was to India, with Lutheran World Relief Study Tour, where she saw the Taj Mahal.
Doris was active in WELCA and Miriam Circle. She was especially active in Piece Artists making and sewing quilts for Lutheran World Relief. For many years she was active in American Legion Auxiliary and the Lindsborg Hospital Auxiliary.
Doris is survived by her daughter Sandra Bachofen, of McPherson; three grandchildren, Elizabeth Holdren and husband Ted, of Plato MO, Eric Stump and wife Terri, of Midland TX, and Bryan Stump and wife Kim, of Grand Prairie, TX; w great grandsons, Taylor and Draven Stump; daughter-in-law, Jeannine Stump, of Midlothian, TX; brother, Marvin Johnson and wife Elizabeth, of Lindsborg; and nieces and nephews.
Doris was preceded in death by her husband Lee; her son Robert; her sister, Elsie Johnson, and her brothers, Walter, Elmer, Oscar Jr., and Kenneth Johnson.
About Us

Our funeral home has been family owned and operated for over 100 years. We pride ourselves in providing quality, meaningful funeral services with the utmost integrity to the people of our community.

Our Location

Crick-Christians Funeral Home

103 North Washington Street
P.O. Box 386
Lindsborg, Kansas 67456
Phone: (785) 227-2400
Fax: (785) 227-3688