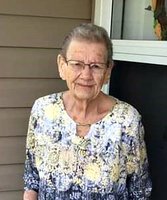 RLou E. Hedberg
RLou E Hedberg, age 92, of Lindsborg died Friday, April 26, 2019 at Lindsborg Community Hospital. RLou was born December 17, 1926 in Kansas City, MO. She is the daughter of the late Joseph and Viva (Gustafson) Anderson. She married Otto J. Stark on February 21, 1946 in Salina, Kansas. He preceded her in death in 1983. She was also the wife of Emerald Hedberg, who she married in 1992, until his passing in 1996.
RLou was a 1944 graduate of Lindsborg High School. She was also a member of the First Baptist Church of Lindsborg. She was also a member of the Women's VFW and the Jolly Mixers in Salina.
She is survived by daughters: Louise Cooper (Bob) of Topeka, KS, Linda L Laiso of Lindsborg; sons: Loren R Stark of Salina, KS, and Lyle W Stark (Lana) of Marquette, KS; as well as 4 grandchildren and 12 great-grandchildren.
She is preceded in death by her parents, husbands, and grandson, William Robertson.
Cremation has been chosen. Family will greet friends Wednesday, May 1 from 5-7PM at Crick-Christians Funeral Home, 103 N. Washington, Lindsborg..
A memorial service will be held 10:00 am on Thursday, May 2 at First Baptist Church, Lindsborg, with Pastor Jim Bridges officiating. Inurnment will follow at Elmwood Cemetery.
Memorial contributions may be made to may be made to the First Baptist Church. Memorials may be sent in care of Crick-Christians Funeral Home, 103 N. Washington, LIndsborg, KS 67456.