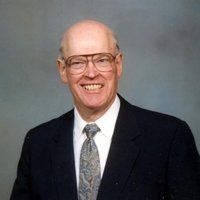 Delmar Charles Homan
Delmar Charles Homan, son of Gladys Vernette Madison and Charles Foote Homan, was born January 10, 1927, in Carl Township, Adams County, Iowa.
Delmar passed away April 10 in Salina. He married Dorothe Louise Tarrence on June 30, 1968, at Lincoln, Kansas. Dorothe died August 11, 1979 at home in Lindsborg.
Dr. Homan, valedictorian of his 1944 high school class (Corning High School, Corning, Iowa) was graduated "with highest distinction" from the University of Iowa at Iowa City in 1948 with a B.A. degree in English and in 1949 with an M.A. degree in English. He received his Ph.D in English and Comparative Literature from Columbia University in 1963 in New York City.
Dr. Homan taught a total of 36 years at levels from junior high through college, spending his last thirty years of teaching at Bethany College in Lindsborg, Kansas. He taught varied courses in composition and literature at all levels with upper level courses, especially in Chaucer and Shakespeare, and with some interterm courses in areas of special interests such as the literature about King Arthur and the study of English literature on site in England, the latter team-taught twice with his wife. He held administrative posts at the college for many of the years at Bethany, including Head of the Department of English, Theatre, and Speech, and Chair of the Division of Humanities. He served on innumerable committees. During his last nine years at Bethany, he was the Margaret H. Mountcastle Professor of Humanities. He retired from Bethany College in 1991 as Professor Emeritus.
Dr. Homan published three articles in books of collected scholarly essays, nine articles in professional journals, and more than sixty book reviews in various professional journals; in addition has given a number of papers at scholarly conferences. His special interests were medieval literature, Chaucer, Shakespeare, Kansas theater history, and popular culture. Dr. Homan is listed in the Midwest Who's Who in American Education, Directory of American Scholars, and Directory of International Biography.
Dr. Homan generally enjoyed traveling, both in the U.S. and internationally. By his own estimate, he had been in 65 countries across the globe. He was a long time member of the Lindsborg Rotary Club, and a member of the First Baptist Church of Lindsborg.
Delmar is survived by several cousins, and also by his many students.
Visitation will be from 6:00 p.m. to 8:00 p.m., Friday, April 13, 2018 at Christians Funeral Home, Lindsborg.
A committal service will be held at 10:30 a.m., Saturday, April 14, 2018 at the Lincoln Cemetery in Lincoln, KS.
Memorial services will be held 1:30 pm on Saturday, April 14 at First Baptist Church Of Lindsborg, 1101 E Swensson, Lindsborg, KS, with Pastor Chris Carlson officiating.
Memorial contributions may be made in Delmar's name to the First Baptist Church of Lindsborg. Memorials may be sent in care of Christians Funeral Home, 103 N. Washington, Lindsborg, KS 67456.