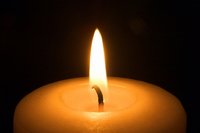 Leona Mae Patrick
Leona Mae Patrick, 85, of Marquette passed away Thursday, January 18, 2018 at Bethany Home, Lindsborg. Leona was born April 16, 1932 in Stromsburg, NE to the late Earnest and Verna (Oberg) Lundberg. Her family moved to the New Gottland area in the late 1940's. It was here that she met her future husband , John Patrick. Leona and John were married at the New Gottland Lutheran Church in 1949.
They then moved to a farm north of Marquette, where they would spend the rest of her life, except for the two years they lived in Fort Benning, Georgia, after John was drafted into the Army. Following the Korean War, John and Leona moved back to the farm in Marquette, where she lived her remaining days.
Leona loved gardening and keeping a nice yard. She especially loved the new house they moved into in the 1970's, on the farm
Survivors include her husband, John, of Marquette, KS; as well as many nieces, nephews, and extended family members.
»(Do not delete this line. It does not print. Text that is to appear on web must be entered before this line)
Leona was preceded in death by her parents and a sister.
Visitation will be from 5pm to 7pm Monday, January 22, 2018 at Christians Funeral Home, Lindsborg.
Funeral services will be held at 2:00 p.m., Tuesday, January 23, 2018 at Christians Funeral Home. Interment will follow at Marquette Cemetery.