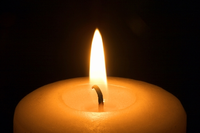 Leora Pearl Peterson
Leora Pearl Peterson, 79, of Lindsborg passed away Saturday, November 25, 2017 at Bethany Home, Lindsborg. Leora was born January 30, 1938 in Falun, KS to the late Arthur R. and Pearl C. (Rupert) Peterson.
Leora worked as a cook at the Lindsborg Community Hospital for many years. She was a wonderful baker and cook, and truly enjoyed it. Leora was known for making and delivering treats and baked goods to friends and family during the holiday season. Leora loved her family immensely. She was the family caretaker, and devoted her time taking care of her parents when they were no longer able.
Survivors include her brothers: Bobby E. Peterson, of Lindsborg, Leon H. Peterson, of McPherson, Delbert F. Peterson, of Lindsborg, Eugene E. Peterson, of Lindsborg, and James R. Peterson, of Lindsborg; sisters, Virginia Patrick, of McPherson, KS and Carol Peterson, of McPherson, KS; as well as many nieces, nephews, and extended family members.
She was preceded in death by her parents and her brother, Leland Peterson.
Visitation will be from 5 pm to 7 pm, Tuesday, November 28 at Christians Funeral Home.
Funeral Services will be Wednesday, November 29 at Freemount Lutheran Church, rural Lindsborg. Interment will follow at Freemount Lutheran Cemetery.
Memorial contributions may be made to The Associated Churches of Lindsborg (T.A.C.O.L.) Christmas baskets. Memorials may be sent in care of Christians Funeral Home, 103 N. Washington, Lindsborg, KS 67456.